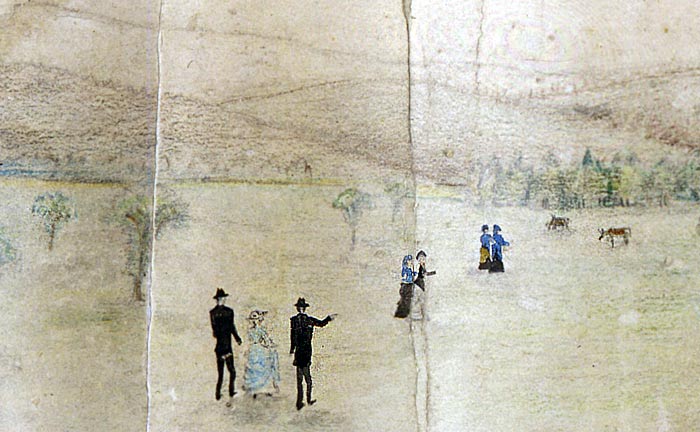 One of twenty-one frames composing a panoramic scroll which records a trip to the White Mountains by eight young men and women from New York in 1875; drawn by an unidentified woman in the group. New Hampshire Historical Society.
When the short nights fail to cool the heated streets of a dusty city, and man feels that he must have respite from the care and excitements of business; when the mother rises in the morning unrefreshed, and the children grow languid for a change; when, finally, the family council decide that a few weeks' vacation must be spent in the country, no place can be found where the cool mountain air blows fresher, where the crystal streams flow purer, or where Nature wears a lovelier garb, than at North Conway.
John B. Bachelder, Popular Resorts and How to Reach Them, 1874
The Saco Valley
The first destination is North Conway, located favorably at the southeastern corner of the mountainous region. Situated beside the fertile flood plain of the Saco River, this community is also at the juncture of the oldest and most traveled routes into the White Mountains—from the south and the east. At the same time, it is far enough away from the most precipitous summits that their appearance in the distance, rather than posing a threat to the traveler, instead enhances the picturesque and pastoral landscape characterizing the region.
By the 1850s, the great variety of scenery in the Saco Valley was attracting artists to North Conway from cities throughout the northeast, as well as from Europe. Their paintings, especially when reproduced in the form of prints, helped foster growth in tourism. In 1859, Thomas Starr King advised tourists that North Conway is "not . . . to be merely driven through. It is a place to stay in, where the mountains are to be studied, where the mind is to rest as in a natural art-gallery, and in an atmosphere saturated with beauty."