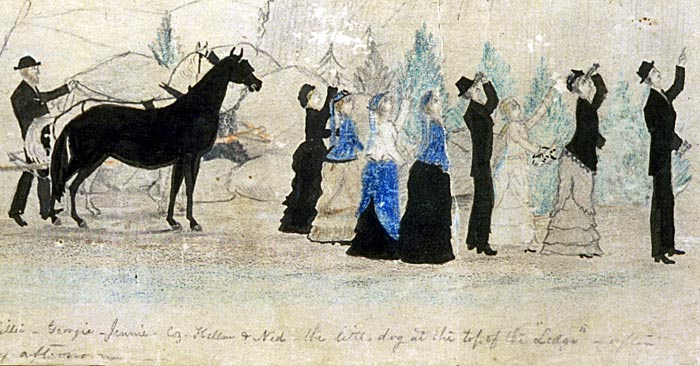 One of twenty-one frames composing a panoramic scroll which records a trip to the White Mountains by eight young men and women from New York in 1875; drawn by an unidentified woman in the group. New Hampshire Historical Society.
The mountains are not nearly so high, or so noble in form, around the Franconia Pass . . . ; but the walls are much closer and more precipitous. . . . The narrow district thus inclosed contains more objects of interest to the mass of travelers than any other region of equal extent within the compass of the usual White Mountain tour. In the way of rock sculpture and waterfalls, it is a huge museum of curiosities.
Thomas Starr King, The White Hills, 1859
Franconia Notch
The average tourist visiting Franconia Notch—a more westerly pass paralleling Crawford Notch—would be eager to see the Old Man of the Mountain. However, many unusual rock formations and other natural features, such as Eagle Cliff, the Flume, the Pool, and the Basin, compete for the traveler's attention along this scenic passageway formed by the Pemigewasset River.
When, in 1805, a road crew first reported the presence of a lofty human profile in the newly discovered pass that became known as Franconia Notch, thirty-five years had passed since colonists had first made their way along the Saco River through the "Great" (or "Crawford") Notch in 1771. Throughout the nineteenth century, the more recently discovered notch always lagged somewhat behind the longer settled one whether in the development of tourism and hotels or of railroads and related improvements.
In the mid-1850s, the slower pace of life in the Pemigewassset valley attracted some artists away from North Conway to gather in the White Mountains at Campton, a few miles south of the entrance to Franconia Notch. The many artists who frequented this valley left their mark on the landscape in such places as the "Artist's View" and "Artists Bluff."