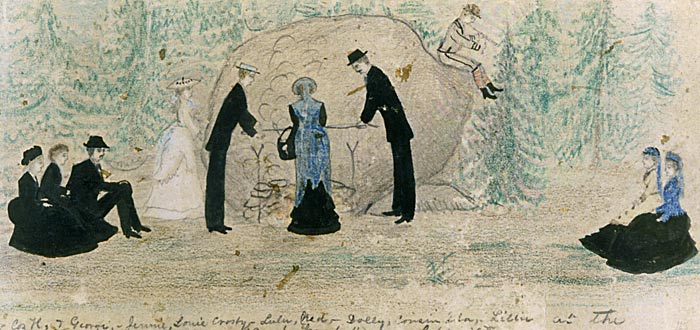 One of twenty-one frames composing a panoramic scroll which records a trip to the White Mountains by eight young men and women from New York in 1875; drawn by an unidentified woman in the group. New Hampshire Historical Society.
The New Hampshire Historical Society is grateful to all those who have generously contributed to the exhibition and publication Consuming Views: Art and Tourism in the White Mountains, 1850-1900.


Guest Curators

John J. Henderson
Roger E. Belson
Sponsors

TD Banknorth Charitable Foundation
Robert and Dorothy Goldberg Charitable Foundation
John J. and Joan R. Henderson
Catherine L. and Joel J. Bedor
Mount Washington Cog Railway
Capital Offset Company, Inc.
New Hampshire Historical Society Project Staff

William P. Veillette, Executive Director
Wesley G. Balla, Director of Collections and Exhibitions
Donna-Belle Garvin, Director of Publications
Douglas R. Copeley, Museum Registrar
Joan E. Desmarais, Assistant Executive Director
Mark Foynes, Director of Education
Kathy Traynor, Director of Development
Consultants

David Tatham, advisor
Bryant F. Tolles Jr., advisor
R. Stuart Wallace, advisor
Christopher Kuntze, printed publication design
D. C. Mann, Web feature development
Fletcher Manley, photographer
Bill Finney, photographer
John W. Hession, photographer
Louis Karno and Company Communications, public relations
Volunteers

Kathleen Belko
Lorayne Billings
Grace Dunklee Cohen
Verdenal H. Johnson
Cheryl Kitsis
Eleanor L. Nelson
John R. Robinson
ESSAY CONTRIBUTORS (printed publication)

Visit our book page for a list of essay contributors and information about how to purchase Consuming Views: Art and Tourism in the White Mountains, 1850-1900.